15 Tips for Hiring an SEO Company That Doesn't Suck
You need to hire an SEO company. Where do you start, and how do you know that you are entrusting your cash to the right person or company?
When done right, SEO can be the most effective digital marketing channel because it connects you with people who are already looking for you. But the harsh reality is, there are lots of ineffective companies out there.
There are also awesome SEO companies. As an SEO in Des Moines, I have worked with both types and learned over the years how to discern the good from the bad.
Here are the do's and don'ts of hiring an effective SEO company.
Why do some SEO companies suck?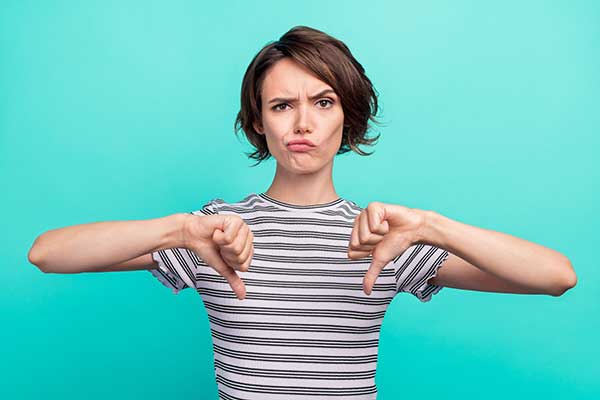 SEO is like any other service – there are good providers and bad ones. However, it seems to be a bit worse in the SEO industry because SEO requires a very specialized set of skills.
Additionally, SEO services can seem very intangible. There's lots of work that goes on behind the scenes, and can take quite a while to start working (even when implemented amazingly). Bad companies tend to exploit this fact, by stringing you along and using techtimidation.
If an SEO company sucks, there is a good chance it is due to 1 of 3 reasons:
They are a spammy SEO company that uses cheap, dated, and risky shortcuts for short term gain and long term detriment (also referred to as black hat SEO)
They are a big agency with little SEO specialty and/or you are just a cog in their wheel
They are an amateur that is simply in over their heads
Stick around to learn how to spot these types of companies.
How do I find a good SEO company?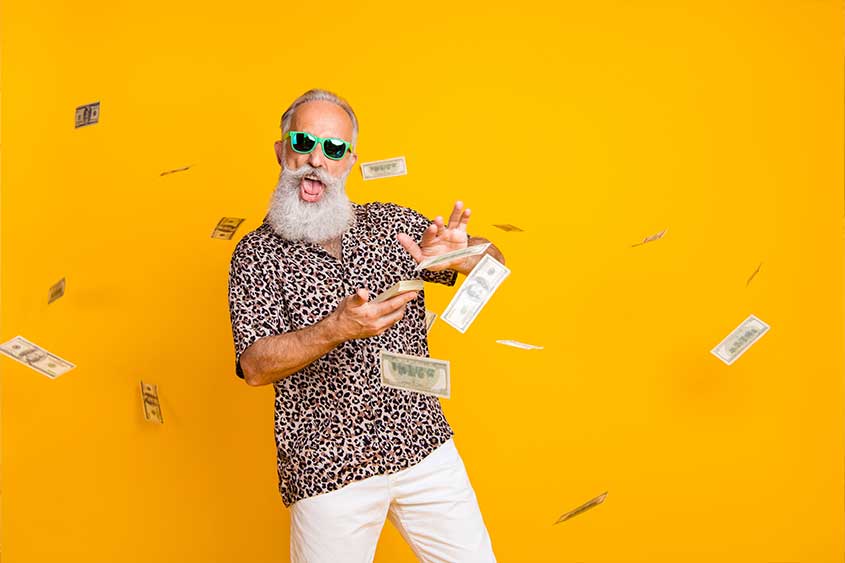 There is no silver bullet to finding a rock star SEO company, but if I could give you one piece of advice, its to look at the results of their performance with existing clientele.
The best indicator of an SEO company's value is the level of success that it brings its current clientele.
Let me say that again, this time as a branded infographic: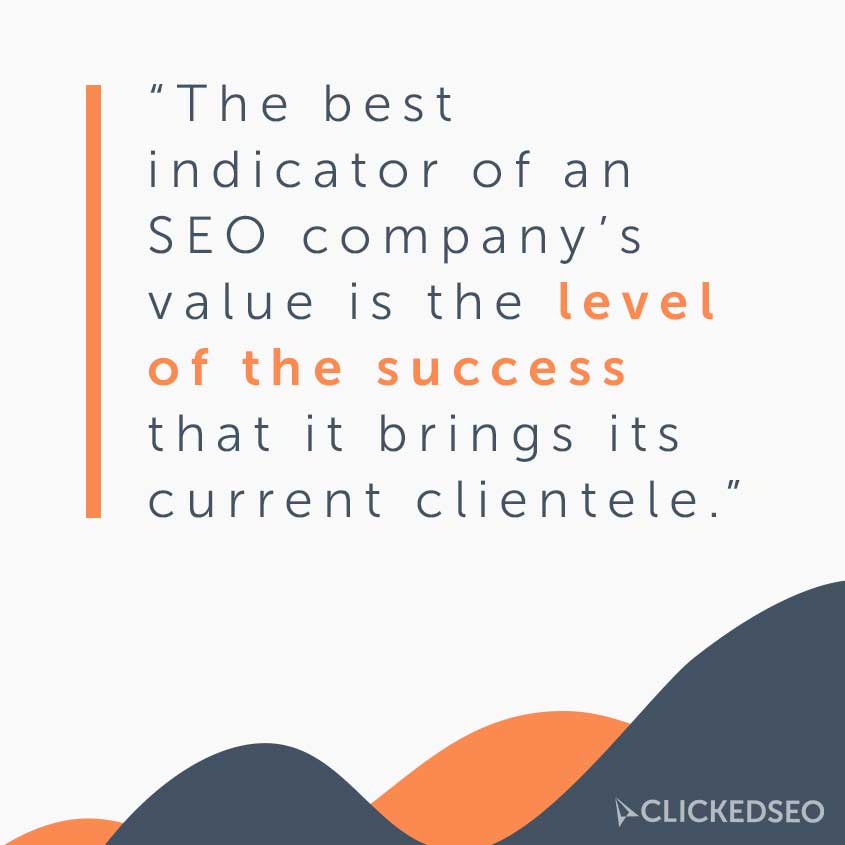 Here's how to audit an SEO's performance with their current clients:
Auditing the performance of an SEO company with their current clientele
Ask them – The easiest way to gauge the performance of an SEO company is to simply ask them to demonstrate the success they have brought for their clients. Ask them for case studies, reviews, and testimonials, backed with specific statistics. You're about to pay them lots of money, it's the least they could do.
Read reviews – Check places like Google My Business, Trustpilot, Yelp, and the BBB.
Work with a consultant – A consultant will have the tools and know-how to audit the SEO strategy of their clients.
Buy or borrow an SEO tool and check yourself – With a tool like Ahrefs, you can check things like organic traffic, rankings growth, and traffic value of any website on demand.
Check their SEO – If an SEO company is ranking their own website, its a good indication that they know what they're doing. Simply search into Google something like "SEO [City Name]" and see if they rank!
15 tips for hiring an SEO expert
Now that we've covered the basics, here are 15 actionable tips for hiring an SEO expert that delivers results:
1. First, educate yourself on the basics of SEO
Your SEO hiring process will go so much easier if you understand the basics of how SEO works. It will help you ask the right questions, know what to look for, what to expect, and how to gauge results. Read up on SEO fundamentals, including algorithms and SEO ranking factors. It shouldn't take more than an hour or so to learn enough.
2. Search for SEO providers in multiple ways
Now that you know the basics of SEO, it's time to start searching. Start with searches in search engines. Only click the organic (SEO, nonpaid) results. Websites that rank their own website probably will be able to rank yours too.
In addition to searching online, ask around. If you can find a business partner who loves their SEO company, that company is definitely worth checking out.
Last, check high performing, reputable websites and see if you can find out who does their SEO. Check the footer of the website or even call them to ask them. The more feelers you get out there for SEO companies, the better.
3. Don't limit your prospects to local companies
You may be tempted to search "SEO companies near me" or "SEO companies [city]". This is a great start. After all, it's nice to work locally for the personal touch. However, since SEO is done exclusively over the internet, you will be able to cast your net wider by searching for companies all over geographically. There is no benefit to going locally other than maybe being able to meet with them in person more easily.
4. Consider a freelancer or individual
Individuals & freelancers can pose benefits over large agencies including more specialization & bandwidth at an oftentimes cheaper price. They can be an effective solution for small and large businesses alike on a budget.
5. Don't consider spamblasters
We've all seen the cookie cutter spam emails:
"Hi [insert company name]. I came across your website and its awesome, but it could use an SEO push. Order from us today and we will get you to the top of Google in 1 week."
I am not saying to ignore inbound sales emails & phone calls from SEO companies, but  if they give lazy, cookie-cutter pitches or ones that sound too good to be true, they are probably a spammy & ineffective company.
6. Get quotes from at least 3 different companies
Speaking to several different companies allows you to compare & pick the best one.
7. Have prospective SEO companies demonstrate success stories with existing clientele
Ask them to send you documentation of success stories with their existing clients. Look for things like organic traffic increases, ranking increases, and sales increases. If they won't provide this for you, then say thanks but no thanks.
8. Check their reviews
Look online for their reviews through platforms such as Google My Business, Trustpilot, Yelp, and BBB.
9. Check the SEO stats of them & their clients
If they are an SEO company in Chicago, search "SEO Chicago". If they rank highly for this organically (not through Google Ads), then they practice what they preach.
Check the same thing with their clients. If one of their clients is a plumber in San Francisco, search that and see if they rank.
Tests like these are pretty limited in their data. To dive deeper into the stats, you can use a paid tool such as Ahrefs to see historical traffic & rankings growth of them and their clients.
You could also consider a consultant or friend with a bit of SEO know-how to snoop around for you.
10. Ask them their SEO strategy
This is where knowing the basics of SEO yourself will come in handy. Their SEO strategy should consist of 3 broad categories – Technical SEO (optimizing existing website infrastructure), A content strategy (i.e. blogging), and link building. Any good SEO campaign pays attention to all 3 of these things.
11. Ask them how success will be measured
The 2 main performance indicators of SEO are organic traffic and rankings. Any good SEO will use these metrics and report their growth to you.
However, these numbers mean nothing if they do not generate you sales. There is a very strong correlation between the 2, but is possible to have one without the other.
Any good SEO will talk not only about rankings & traffic, but about how they will enhance your revenue by driving sales.
12. Look out for black hat SEO red flags
Black hat SEO is SEO is an SEO strategy that entails tricking search engines with outdated, spammy practices. It can work in the short term, but poses a great risk to your website getting penalized (plus, who wants shady marketing tactics as a reflection upon their brand?).
White hat SEO, on the other hand, entails aligning your user's best interest with the best interest of the search engine algorithms. In fact, search engine algorithms have become so smart over the past decade that there's not much of a difference between the 2. In other words, a big portion of SEO is creating a rock star website that your users love. White hat SEO is the most effective strategy for long term, sustained success.
Very few (if any) SEO spammers will say "I am a black hat SEO", but look out for some of these red flags:
A heavy focus on backlinks at scale, oftentimes auto-generated or irrelevant
Overpromising with quick or guaranteed results
A cheap price – in general, "cheap" means anything less than $400/mo.
Little or no talk about creating quality content or creating a positive user experience and digital brand
Their own website looks dated or spammy with a poor user experience.
13. Don't hire the cheapest route
As the (incredibly cliche) saying goes, you get what you pay for.
Odds are, a company offering $200/mo SEO is not going to deliver.
The reason is simple – SEO takes lots of time and work from experts. This cannot be accomplished at a cheap rate.
14. Don't go with a company that overpromises
Nothing is ever guaranteed in SEO and it can take lots of time. A company guaranteeing quick results is likely trying to pull a fast one on you.
A good company will communicate their strategy & expected timeline while setting realistic expectations.
A good SEO company will underpromise and over deliver (that's my last cliche for awhile I promise).
15. Don't tolerate techtimidation
Techtimidation is the art of using big techy words to sound smart, and/or scare you into buying from them.
I've caught companies trying to do it to me, and i'll tell you what, its satisfying challenging them to elaborate upon statements that they made. If you know the basics of SEO, you can challenge them yourself. Or better yet, you could just hang up on them.
A good SEO will only use layman terms and not try to make SEO seem elusive by using a "You wouldn't get it" tone.
The bottom line
There are awesome SEO companies and not-so-awesome SEO companies.
If I could offer 2 pieces of advice on finding a good SEO company, its this:
Learn the basics of SEO yourself
Assess the SEO performance of any prospective company's existing clients
I am Ryan, founder of Clicked SEO.  Needless to say, we are one of the awesome SEO companies.
Start your search by shooting me a note so I can show you what I mean.